About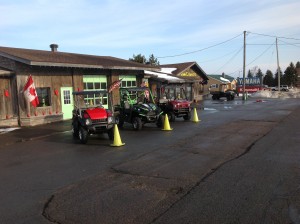 John Harvey Gasoline Alley is the oldest Yamaha Dealer in the Northeast – in business since July 29 of 1965 and at the same Route 11 location in Malone NY. After many upgrades and additions the building is ALMOST big enough!
In the early days, it was just small motorcycles that sold for less than $400.00 – little Yamaha 2-strokes such as the Twin-Jet 100. Those were fun times! We have sold everything from race bikes, lawnmowers, go-carts, street bikes, off road bikes, snowmobiles, and ATV's.
We borrowed our name "Gasoline Alley" from the famed pit area at the Indianapolis Speedway.
We do things a little different here, such as crazy ads, just like the old days. We always "smile" and say hello! Our 3 dogs – Bear, Baby, and Midnight – add to all the homeyness of our business. We also have a good reputation for doing things correctly – in all areas – sales, parts, and service.
In 1999, we were selected as one of the top 100 dealers from DealerNews Magazine and even graced their cover in the September issue. We give back to the community by organizing a large motorcycle ride in JULY for our local Animal Shelter with 100% of the proceeds given to the shelter, After 20 years of these rides we have donated over $40,000.00 to the shelter to keep them going !!!
The Team
John Harvey is still here after 82 years
Ray Miles has been with us for 40 years and is General Manager
Jordan Broeker to help you in the parts & accessories dept.
Robert Benware & Eric Deshane in the service dept.